Today's article is all about Sellvia review – the best dropshipping supplier in the USA.
They're also the best US-based eCommerce supplier you can start working with them right now at a very affordable cost if you want to make it big from your online store.
Getting the right suppliers for your dropshipping store is quite tough, but you can automate your business effortlessly when you eventually got one.
And there will be no fear of products missing, inferior products, delay shipping, and unhelpful customer care.
Which will allows you to focus on growing your business day in, day out.
That's why I bring you this sellvia review so that you can learn more about sellvia and how you can start working with them right away to automate your dropshipping business.
So if you really want to maximize your dropshipping store with a US-based dropshipping supplier, you can't afford to skip any part of this sellvia review.
Are you ready to learn more about Sellvia now? If so, let's begin…
Sellvia Review – The Fastest Shipping Dropshipping Supplier In the USA
If you're looking for a fast and reliable Us-based dropshipping supplier then Sellvia is what you actually looking for. So before we dig dip into this Sellvia review, let's look into what Sellvia actually is.
What is Sellvia?
Sellvia is a game-changing dropshipping supplier based in Irvine, California United State Of America.
It was created by a team of experienced entrepreneurs and software developers that know how the e-commerce industry works too well.
So that their product users can make the best out of their dropshipping store.
By working with sellvia, selling in the USA will no longer be an impediment.
From the fulfilment to the product delivery is handled by sellvia so all you have to do is to hunt for new customers.
And best of all, all the products you'll found on the sellvia platform are winning products.
Meaning, all the products are trending and hot selling products.
So let's move a bit further to how sellvia work.
How do Sellvia works?
It works simply so that you can set it up and running immediately.
Here is how sellvia work below
i. Install sellvia onto your online store and import their bestselling products to your store with just a click.
ii. Launch your store and start selling immediately.
iii. When your make sales on your store the order will automatically be redirected to sellvia.
vi. They process your orders, pack the items, and ship them directly to your customer for you.
v. Fast delivery – with sellvia you will enjoy super-fast delivery to your customers.
No longer wait like Aliexpress anymore.
That is how sellvia works and as you can see it's really a game-changer for drop shippers like I and you.
As far as you are on this page I assumed you're a drop shipper or about to become one, so sellvia is the right tool you need to be successful in the US-eCommerce space.
Sellvia services
They have two types of major services/solutions right now and they are:
Ecommerce supplying services and online store designing services.
1. eCommerce supplying services
Use sellvia for trending products, high profits, and lighting fast shipping across the US.
The have a lot of products ready in stock to be shipped.
So your customers will not be waiting for the product production process or importation from other countries any longer.
They will process all your orders within 24 hours and deliver them to your customers at their doorsteps without any effort from you.
Facts about sellvia eCommerce services
Here is a few facts you should know about sellvia before using them for your online store.
It's an us-based company
Their price is lower than Aliexpress and the other supplies
They have the best product page in the industries
1-3 business days us shipping
Bestsellers with huge profit merging which means more money in your pocket
Only 24 hours of order processing time
All of their products are ready for shipping across the United States. Which eliminate customers waiting for the products to be manufacture.
Products descriptions and images are available. You don't have to write them from scratch yourself. Except you want to do so.
It'll reduce your store refund rate by 45%. No more long waiting to receive a products your store any more customer will receive them in the shortest time possible.
They have only winning products in stock so that you can sell more easily and racks more profits.
Free catalogue to browse before subscribing to their paid plan.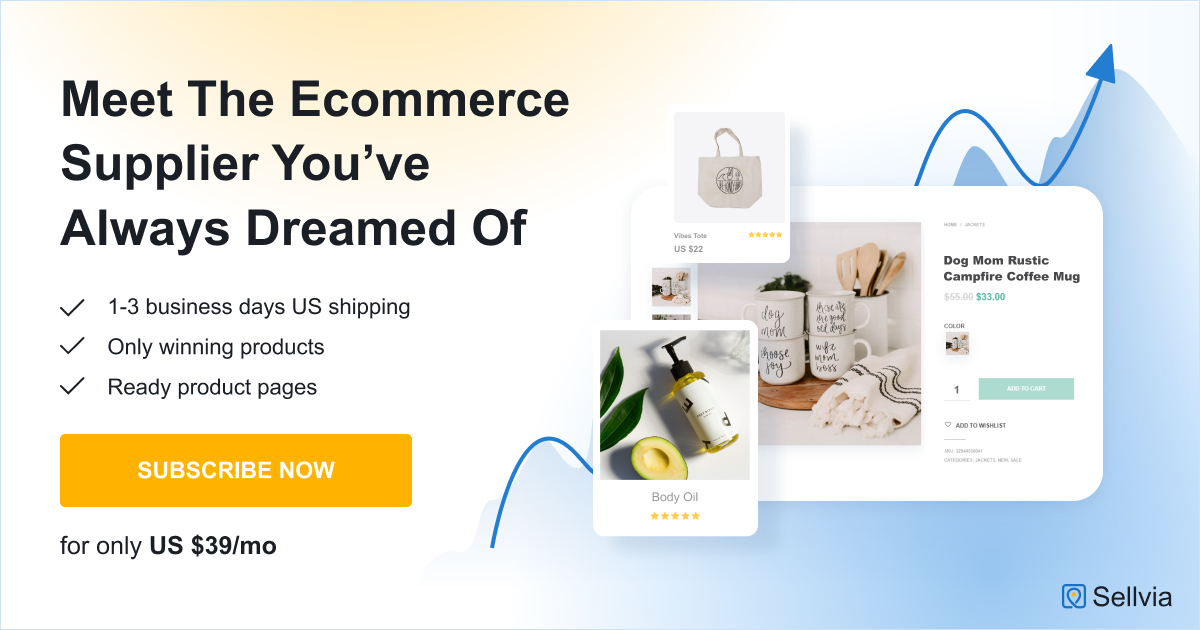 How to start selling with Sellvia eCommerce supplying services?
To get started, all you have to do is to install the plugin on your online store and do the following;
One-click product import from their catalog to your site and started selling immediately.
Automated order placement
High converting products pages to import to your website
New hot products every week
Sales-boosting, fast shipping badges
Handy catalog presets and more
How much does Sellvia eCommerce supplying services cost?
They have one of the most affordable prices in the industry. Their subscription plan costs only $39/month to enjoy all of their top-notch services.
2. Only store designing services
If you're just planning to get started with your eCommerce business then sellvia get you covered.
They can build you perfect custom stores that will work on autopilot and bring you profit forever.
They'll handle everything for you.
Ranging from products/niche research, website creation to product importation, payment gateway integration to social media pages creation is done by them.
All you have to do is to order one of their custom stores package, wait for the completion of your store and started selling immediately.
They'll also attach you with a personal manager that will be helping you 24/7 regardless of any assistance you may need from them.
Sellvia custom store pricing plans
All of the pricing plans below are one-time payments.
No monthly or hidden fees.
Basic: $299+$48 hosting fees
Advanced: $499+48 hosting fees
Ultimate: $899+48 hosting fees
You can use this button below to compare all the plan details
There you have some details you need to know about Sellvia and the services they render.
So before we conclude this Sellvia review, let's look at some of the frequently asked questions you may have about Sellvia.
Frequency asked questions (FAQs)
Where is sellvia located?
The company is located in the California, United State of America. It's a US-based company that helps dropshippers make the best out of their dropshipping store.
Sellvia address?
Sellvia is located at 14460 MyFord Rd, Irvine, CA 92606.
How much does it cost?
It will cost you only $39 monthly to get started with their dropshipping services
Does Sellvia ship to other countries?
No – Sellvia only ships to US customers
Who sellvia is for?
It's for any serious dropshippers that use to sell products in the USA and looking for a fast dropshipping supplier and tool to automate his or her dropshipping business.
Sellvia alternative
They're only two main sellvia alternatives and they are;
Related: How To Start A Dropshipping Business That Will Make You 100k Monthly
A final thought on Sellvia review
Sellvia has been a game-changer for many dropshippers and they are here to help both new and struggling dropshippers to be successful.
The easiest way to grow your dropshipping store is to partner with the right product suppliers.
Suppliers can increase your sales and they can decrease your sales.
How?
If your supplier sends top quality products to your customers, they will likely buy from you again.
And if you received their product on time, they'll also likely going to buy from you again.
Which means product sales increase?
Anything another way around from the above instance may decline your sales.
So choosing the right supplier like Sellvia is a great advantage to your business.
Articles you might read before you go