If your aim is to generate tons of leads and sales this year, then my friend you can't do without a landing page builders. You know why? Never mind, I'll tell you why.
Without high effective landing pages/sales page, you can't drive enough leads or sales you ever wanted.
The competition is tough these days.
So you need quality landing pages that will help you convert your visitors to regular buyers.
That's why we bring you this list of the 5 best landing page builders that we have personally used for our businesses and our client's businesses.
Every landing page builders you will discover here in this list is tested, World-Class tools and trusted by millions of entrepreneurs like you around the globe.
So buying any of them from here is to your advantage.
Before we start with the list, let's consider what is landing page and landing page builder.
What is a landing page?
As the name implies; a landing page is a web page that people who click on learn more, shop now, subscribe now etc from an advert would land on to learn more about the offer before making decisions to make the purchase.
Most people refer to a landing page or sales page as a website, that's not true.
A landing page is just a web page that is highly dedicated to leads and sales generation. You can check this one and see what am saying.
I hope you have understood what is a landing page is? If so, let's proceed.
But let me warn you, this article isn't for people who open a page, scroll from beginning to the end and bounce back without reading it neither taking any action from the page.
If you're one of them, exit this page now and don't waste my precious time.
I wrote this article for readers and action takers.
People who are truly looking for the best landing page builders to lay their hands on.
If you're one of them stay tuned don't go anywhere.
What is a landing page builder?
A landing page builder is an online software that allows you to create high converting landing pages/sales pages without any technical knowledge or skills.
All the landing page builders mentioned here below have hundreds of ready-made templates you can start using immediately.
Or use the easy to use the drag-and-drop interface to create one from scratch.
Please help us pin this image below. it free to pin.
So, are you ready to discover the exclusive sales page builders?
If YES then, let's begin…
5 Best landing page builders you must use now
Like I told you earlier, these tools listed below are high prolific tools that are used by millions of top entrepreneurs across the globe.
1. Clickfunnels
Clickfunnels is the most famous and of the best landing page builders and sales toolkit on the go right now.
It's has been using by top entrepreneurs worldwide.
An entrepreneur like Tony Robins, Dan Lok, Wesley Virgin, Peng Joon and Liz Benny is their happy customers.
Clickfunnels make it simple for any entrepreneur to build their own marketing funnel (a sales page) in just minutes…without needing to really be on a team of techies or web developers.
111,537 entrepreneurs are actively using clickfunnels to easily get their products and message out to the world.
Clickfunnels features
Clickfunnels gives you the right tools and strategies you need in one convenient spot.
With clickfunnels you have the right tools to market, sell and deliver your products and services online fast and easily than you can imagine.
Easy to understand dashboard: It has a simple dashboard that you will use to track, analyze, view and manage all your business activities in one place.
Ready-made templates:

They have a high converting ready-made to use sales funnel you can start using immediately after signing up now.

Drag and drop page builder:

With clickfunnels, you can start creating funnels from scratch without any tech knowledge or experience. All you have to do is to use the drag and drop tool to create your Landing page effortlessly.

Shopping cart:

You are opportune to use a smart shopping cart with 1 click upsells. Which means more conversion, leads, and sales. And when that happens it means more money right?

Email and Facebook marketing automation: You don't have to worry about email marketing tool or Facebook marketing tools. Clickfunnels is an all-in-one marketing platform, so you will enjoy everyone on the platform.
Integration: Clickfunnels is easy to integrate with any other online marketing tools on the go. And many more features to mention but few.
Clickfunnels pricing
Click funnels has a plan for every phase in your business journey! Choose the plan that best suits your business needs.
Starters plan: $97/month
Platinum plan: $297/month
Towcomma clubx plan: $2,497/month
You can join the hundreds of thousands of happy entrepreneurs that are growing their businesses with clickfunnels today.
Pros
Clickfunnels is absolutely made for sales funnel building which makes to stand out above its competitors.
You don't need any other tool to start selling online. it is an all-in-one tool for you.
Easy to understand and use
As you join the platform, you become automatically Affiliate so that you can start making extra money by promoting the software and their in-house products.
It is free for 14-days
Awesome customer support
Cons
Clickfunnels has become a game-changer for so many business owners around the world. You can check them out
Start your free 14-days trial here
2. Leadpage.
Leadpage is a world-leading landing page builder or software that go beyond just landing page building.
And it's one of the top landing page builders you will see on the go.
No list of landing page builders that you will come across and the leadpage won't be among them.
With leadpage you can confidently grow your business online by turning clicks into customers with their high converting landing page you easily do it yourself (DIY).
In fact, leadpage is all-in-one marketing tools that allow you to create high converting landing pages/sales pages, website, pop-up forms, alerts bar and many more.
Leadpage features
These leadpage features below would be blown your mind.
I mean it would push you to start trying the software right now and from this page, if you truly want to make it big from your business online this year.
So let's get started with the features right away.
Clean-clear Dashboard: With leadpage, you can track all your business activities in one place. It's very easy to use and understandable. Even kids can navigate through the dashboard without any hassles.
Ready to use templates:

leadpage have over 250 readies to use landing pages, sales pages, checkout pages, and thank you pages that cover all niches.

All you have to do is to use the easy to use the editor to customize them to match your business and to your taste. Input your products or services information and you're set to start selling immediately. If you don't want to use their own templates you can use their drag and drop tool to create a new page from scratch.
Drag and drop tool: It allows you to build your landing page from scratch in a fun way and in a matter of a few minutes. No tech skills required to create high converting landing pages with leadpage.
Success predictor tool:

This tool allows you to know exactly how your sales page will going to perform after you got published. It helps you to optimize your page for greater conversion

Mobile friendly: A Whooping 70% of Internet users these days used a mobile phone to browse the net. That's why the leadpage made this feature available. Their page looks pretty good on mobile and load incredible fast than what you may think.
Integration: Leadpage is easy to integrate with tons of other popular online marketing software out there. Do you love to use the software with another tool? You can make that in a matter of a click with this feature.
Leadpage has so many other awesome features but we can't mention them all here. It goes beyond landing page pages building. It is also a website builder and email marketing tool.
Leadpage pricing
Leadpage pricing are categorised into three plans and they are;
Standard plan: $27/month
Pro plan: $59/month
Advance plan: $239/month
Start a free 14-days trial now
All of the plans are free for you to use for 14-days so that you can decide whether the software is actually what you are looking for or not.
3. Unbounce
Unbounce is the #3 in the list because it's a complete tool that is only dedicated to landing page building.
That makes it one of the best and versatile landing page builder for all types of business.
Unbounce sales page is for all kinds of industries. With Unbounce you require no tech skills to start designing your beautiful landing pages that will actually work for your business or businesses.
Unbounce features
Unbounce have tons of mouth-watering features that suits and business.
Whether small, medium or large scale businesses, Unbounce get you covered.
High clean easy to understand dashboard: you will have a clean dashboard to create, manage, and tracks all your campaigns in real-time without any hassles.
Templates: Unbounce has over 100 ready to use templates that you can start using immediately.
Drag and drop tool: this allows you to create your own landing pages from scratch without any technical knowledge
Script Manager: This allows you to insert your personal script to the landing page easily.
Accelerate mobile page (AMP): Boost your conversion by creating an AMP landing page that load up to 80% faster than standard mobile pages. Unbounce pages are 100% mobile responsive.
Integration: You can Integrate Unbounce to WordPress and much more software.
Free images from Unsplash: This allows you to have access to more than 850,000 free, professional images from tons of photographers right inside the Unbounce landing page builder interface.
A/B Testing: Run A/B test to see how your pages are resonating with your visitors.
There are more bunch of features but no time to mention all of them here.
So you can check all of them on the website from the link above.
Unbounce pricing
Unbounce have four plan packages and they are;
Lunch: $72/month
Optimize: $108/month
Accelerate: $180/month
Scale: $270/month
Pros
It's a complete landing page builder and lead generator
It's free for 14-days
It's easy to use for both beginners and experts
It's doesn't require a piece of coding knowledge to build a world-class landing page.
Cons
It's a little bit expensive for beginners
The form builder lack some features
4. Instapage
Instapage is also one of the best landing page builders in the world right now.
They claimed to be the world's most advanced landing page building platform.
Most of their customers are said to have up to 400% more from their digital ads spend with instapage.
They're the most creative landing page you can think of on the go.
Here's what one of their customers have to say below
"Instapage gives us the ability to tailor our landing page content and layout to tell a unique story for each geographical target. The platform also enables us to create different variations with content that performs well for each unique channel. Every marketing team needs this" ~Tamer Freidland
Instapage features
Instapage comes with every features that those high prolific landing page builders listed above have. What makes instapage different is its versatility.
Clean-clear dashboard: Instapage has a wow……dashboard, that allows you to manage your business from one single dashboard.
Ready-made templates: They have over 150 ready to use templates that covers all niches and business industries.
Drag and drop: If you don't like their already made templates them the drag and drop page builder get you covered. You can use it to create your landing page without any impediment.
Social media marketing toolkit: Instapage was made for absolutely marketing purpose. So sharing your campaigns or running ads on social media is no longer a problem.
Personalization: Increase visitors engagement and conversations with a unique landing page experience for every ad and target audience.
Admap: Visualize your ad campaign and effortlessly connect ads to relevant post-click landing pages all in one place.
Integration: Connect instapage with other popular software out there effortlessly.
There are more tons of features such as page speed, collaboration, etc
Instapage pricing
They have only two plans and they are:
Optimize: $199/month
Custom: contact them for the price
Pros
It's a versatile page builder and marketing platform
It's easy to set up and use
Organizing your pages, and funnels into folders.
Cons
Expensive for newbies
Not robust enough to be your whole
5. Landingi
Landingi is a platform for every marketing activities with the landing page.
Use the drag and drop editor, +300 ready to use templates, Integration, A/B test, and pop up to create beautiful converting sales funnels.
Landingi is designed to help business owners, marketers, agencies and enterprises grow their business by providing them with incredible everyday marketing platforms.
You can read what internet an internet marketing gurus Neill Patel have to say about Landingi below;
"The tools and features that landingi offer are great for anyone looking to create landing pages". ~Neill Patel
Landingi features
Landingi have a numerous range of features that we can't cite all here but we would list the core ones.
Dashboard: Create, views, manage, and tracks visitors all in one place.
Templates: Landingi has +300 ready-made templates waiting for you. The templates are premium templates that cover every marketing purposes or industries.
WordPress plugin: This would help you to integrate it into your WordPress website easily.
Autoresponder: Setup autoresponder messages that will be sent directly to every new lead's inbox right after completing a form, 24/7.
Analytics and tracking: This allows you to analyze and tracks all your marketing campaigns.
Personalization: It gives the capability to use the duplication feature to copy the landing page and make adjustments with a few clicks.
Integration: It gives you the ability to connect your landingi account with the most popular tools on the internet.
And lots more features, you can explore their site.
Landingi pricing
Landingi comes with 3 major pricing plans and they are;
Create: $89/month
Automate: $125/month
Agency: $199/month
Pros
It's super easy to use and setup
It's great for all kinds of marketing needs
It has a free trial so that you can decide whether it's good for you or not
Awesome customer service
Cons
 No pre-made blocks to use
Expensive for being with a tiny budget or pocket.
There you have the top 5 best landing page builders in 2021.
I hope you have found some of these landing page builders helpful or found one for your business?
Other tools recommended by us;
GetResponse is a complete online marketing solution. It provides turnkey newsletter publishing and hosting features, as well as unlimited follow-up autoresponders, landing pages, webinars, marketing automation, and CRM to deliver information to your contacts and convert them to paying customers.
Through responsible and fully automated list hygiene, anti-spam practices, and established relationships with major Internet service providers and email service providers,
GetResponse prides itself on the highest possible email deliverability to ensure that your messages get through to your prospective customers.
Many are even considering getresponse as one of the best landing page builders too.
Read also: How To Create Instagram Business Account Step By Step Guide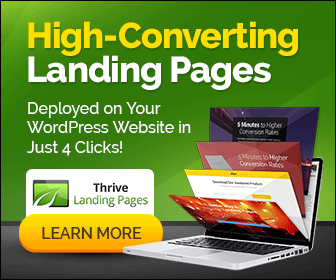 Conclusion
Let me be honest with you here, without quality landing pages you can't make it online nowadays.
In terms of sales generating, a landing page is far better than a website.
A website is like the whole University course while a landing page is like a specific course.
A student can not do well in the courses but he can do extra well in a single course.
So, grab one of the best landing page builders 2021 listed above today.
Having any questions, addition, or suggestions for these 5 best landing page builders?
Don't hesitate to leave a comment below.
Your thought and feedback would be very helpful and appreciated.